Electric scooters are one of the most convenient and easy-to-ride methods to zip around the city, for fun or for the daily commute.
It is really enjoyable to ride without polluting the noise and air, so nowadays the government also promoting the EV culture as an alternative to combustion engines.
For personal transportation, the growth of different electric vehicles like electric bikes, e-scooters, EV cars, and others are growing rapidly.
It is not a miracle to find electric scooters and e-bikes on United States roads. It is perfect for the new society with all the best advantages.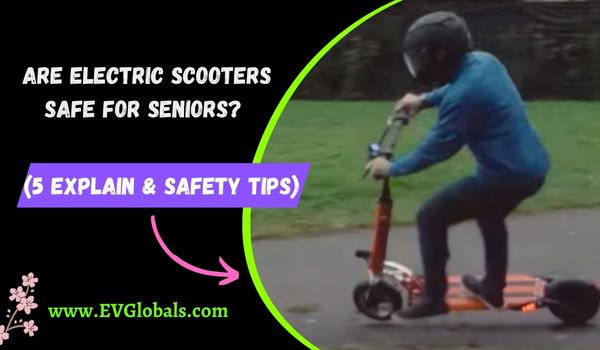 From teenagers to old age electric vehicle is the perfect solution for travel and here in this post I will discuss in detail on the advantages and safety precaution steps that you should follow for a safe ride with your electric scooter.
So let's start with the basic question
Are electric scooters safe for seniors?
Yes, in one word electric scooters are one of the most safest and convenient methods to enjoy the ride for the seniors but there are some safety precautions that you should definitely follow to avoid unusual situations on the road and for safe rides.
Teenagers and seniors are really like a kid in Nature, who wants to enjoy life without worrying or thinking about the next, so if you are a young man and looking for electric scooters then choosing an electric scooter for kids and seniors are same, only the weight is different.
Slow electric scooters are one of the best options for seniors and kids for travel where the top speed is up to 20mph, which is a perfect option for them you can also check the best slow electric scooter below.
And for their protection, I will only recommend the slow electric scooters (yes the slow electric scooter)
Why slow electric scooters are best for seniors
From best safety features to electric scooters I will discuss everything that will help a senior to ride smoothly on the road.
Choosing a slow electric scooter has many benefits like:-
Slow speed means easy to control
It is perfect for kids and seniors
Slow speed scooters help the senior rider to enjoy rides at a limit
Low maintenance
It is available in affordable price
The Speed limit would not allow you to go faster
It is a lightweight and portable solid build with lightweight aluminum
So above are the major benefits of choosing a 20 mph slow-speed electric scooter for seniors that will promise to provide a smooth and enjoyable ride with all the safety features and precautions.
Tips for safe riding as a senior (risks and safety factors)
Risks of Riding an electric scooter for Seniors
Falling from an electric scooter is one of the worst experiences for every rider and when it comes to seniors then the situation becomes worse with if the battery runs out then they have to walk to home which is also not so good for seniors.
So follow the safety steps for smooth and safe riding for seniors.
Were all the safety gears
I always promote safety, whenever you go out from your home with any vehicle then always wear all the safety gear like a full helmet, and gears for knees, elbows, and others.
Follow all the traffic rules
Yes, there are no certain rules made about electric scooters and for the riders but make sure to follow the traffic rules while riding on the road, this will help you and other riders to ride smoothly.
Check the bike before the ride
Checking all the parts, especially the battery is a major concern for senior riders, this will help to avoid battery drain in the middle of the road and the situation will be very to by walking to home.
Ride at a slow speed
Especially for senior riders and kids slow-speed electric scooters are the best option as I previously discussed but in any scooter, always try to ride at a slow speed or medium speed this will help to control the scooter easily.
In case if you face any issues then you can smoothly handle the situation, but overspeed will not allow you to fully control the scooter.
My personal thoughts
So if you are choosing an electric scooter for seniors like your mom and dad, then definitely choosing the slow-speed electric scooter is a great option you can also follow the below steps to find the best electric scooter for seniors
Choose a slow-speed scooter
Pick from the durable and lightweight design
Choose a scooter with seats
Easy to ride best in comfort
All the above steps will help you to find a safe electric scooter for seniors for a smooth ride and enjoy the thrill in life.
Conclusion
Yes, seniors can definitely ride electric scooters for different purposes like daily commuting, for fun, zipping around the city, and others.
so here in this post, I clear all the doubts about whether electric scooters are safe or not for seniors and I hope you will get your answer and if you are looking for slow speed electric scooter with the best quality then you can check my reviews.
That's it from my side, if you are searching for more information about electric vehicles, then definitely check other posts on our site and if you still have any doubts or queries then comment down below and I will love to clear your doubts.