From Office to School It is a Tough Task to Reach on Time With the Personal Vehicle in Winter, We Have to Face Many Issues Along With the Bad Road Condition With the Rain, Snow, Slush, and Others.
To Make the Daily Journey Smooth and Comfortable in Any Weather, Finally, I Am Here After Testing 11+ Electric Scooters on Snow, Rain, and Other Bad Roads
And Here are The 5+ Best Electric Scooters in Winter
| | | |
| --- | --- | --- |
| No. | Products | Price List |
| 1 | Emove Cruiser (Dual Motor) (Value for Money) | Check Price |
| 2 | Kaabo Mantis King GT (Dual Motor) (Incredible) | Check Price |
| 3 | Dualtron Storm (Dual Motor) (Aggresive) | Check Price |
| 4 | Ninebot Max (Compact+ Beginner Friendly) | Check Price |
| 5 | Kugoo M4 Pro (Affordable) | Check Price |
| 6 | UberScoot 1600w 48v with Seats (Cool Design) | Check Price |
It Needs a Great Performance With the Best Quality Tire for Maximum Grip on the Road and Me and My Team Putting All the Results in Infront of You.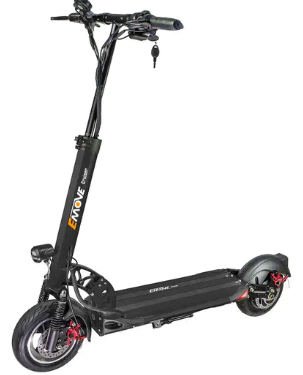 Top Product
Best Choice
Emove Cruiser
Incredible Performance with Justified Price, It Impresses Me With The Specification and Price of this Ebike.
Emove Cruiser is My Primary Choice Due to Its Maximum Performance and Stability on Any Road, Snow, and Also in Mountain, Where It Never Fails to Lose Grip.
Best Electric Scooters in Winter | Electric Scooter for Snow, Rain, Mountains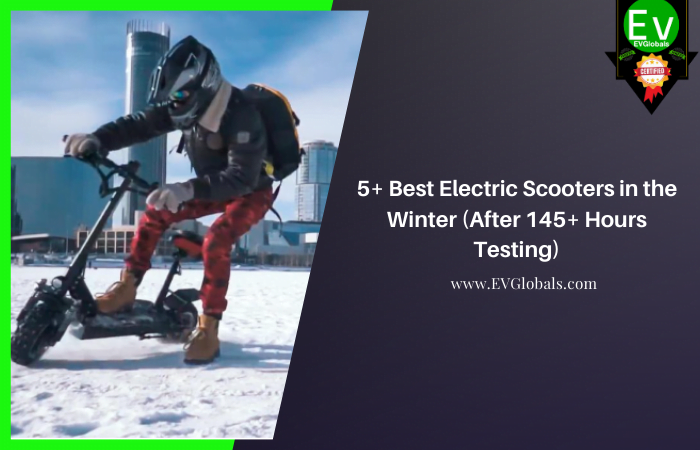 Along With the Best Electric Scooter in Winter, I Have Also Shared the Best Safety Guides, Tips on Handling Electric Scooters in Snow, and How to Take Care of an Electric Scooter in Winter, So Without Any Delay at Jump to Our First Winner Electric Scooter.
Emove Cruiser S (Value for Money) (Dual Motor)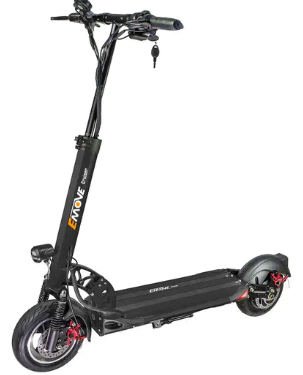 Specification
Speed: 33 Mph
Range: 62 Miles
Weight: 52 Lbs
Load: 352 Lbs
Motor: 1000w
Battery: 52v 30ah LG
From a Long Term User of This Performance Packed Electric Scooter Finally I Am Recommend It to All the Riders Who Looking for Best Electric Scooter for Snow Rides.
With a Simple Upgrade of the Standard Tire to Off-roading You Can Easily Enjoy the Power of 1000w Motor, That Always Ready to Generate Aggressive Power With a Top Speed of 33 Mph.
It is Available in Multiple Customization and Color Option That Definitely Attract Your Eyes and All the Extra Add-on Like Detachable Seats, Tubeless Tires, Anti Theft Locking, and Dual Display With the Ipx6 Rating Attract with Specs.
When It Comes to Real Life it Also Generates Tremendous Power to Cross Any Withstand Wet Weather.
Pros
Excellent Value for Money Product
Smooth Suspension
Self Healing Tires
Ergonomic Thumb Throttle
Perfect for Heavy Riders
Responsive Semi Hydraulic Brakes
Seat Attachment Option
Cons
Low Ground Clearance
Brakes Could Be Better
Why I Recommend This
It is Really Appreciable That the Emove Cruiser S Offer at This Affordable Price Where You Get Unmatchable Performance With Durable Build Quality.
Kaabo Mantis King GT ($2,195) (Dual Motor)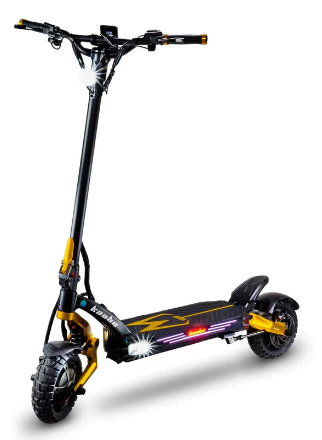 Specification
Speed: 43 Mph
Range: 56 Miles
Weight: 74 Lbs
Load: 265 Lbs
Motor: 1100w
Battery: 60v 24ah
Yes, the King is Not Only in the Name From Build Quality, Design Language, and Power It is Really a True Leader.
Kaabo Mantis King Gt is Available in Dual Color Option That Will Definitely Attract With the inbuilt Graphics and Lights in the Deck.
It is Powered by an 1100w Motor That is Ready to Produce 4000w Max Power Along With the Adjustable Hydraulic Suspension, and Dual Hydraulic Brakes Never Fail the Control From the Rider.
Large Centre 3 Color TFT Display, Smooth Control, Quick Fold Mechanism, Along With the Ipx5 Water Rating Make It Perfect for Any Hard Rides From Snow to Rainy Weather.
Pros
Impressive Design and Appearance
Powerful Hydraulic Brakes
Terrain-agnostic Tires
Ipx5 Water-resistance Rating
Hydraulic Suspension
High-quality Samsung Battery
Advanced TFT Display
Large Deck
Why I Recommend It
From Appearance to Performance, It is Built With All the Best in Classmates and if You Do Not Have an Issue of Money Then You Can Definitely Check This Ultra Powerful Electric Scooter for Any Type of Bad Weathers.
Kugoo M4 Pro (Most Affordable Price $675)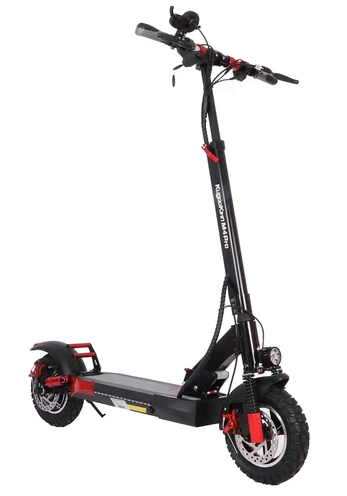 Specification
Speed: 27.9 Mph
Range: 42 Miles
Weight: 42 Lbs
Load: 300 Lbs
Motor: 500w
Battery: 48v 18ah
It is Really Amazing That Kugoo M4 Pro Offer at the Most Affordable Price Under $650. With One of the Perfect Electric Scooters for Daily Commute to Ride in Less Snow Weather.
It is Packed With 10 Inch Pneumatic & Anti-skid Tire, Powered by a 500w Motor, Provide Enough Power to Ride in Snow With Smooth Suspension and Hydraulic Brakes.
For the Long Rides, You Can Attach a Seat for Sweat Proof Ride and Easy to Folding Mechanism Which is the Lightweight Body You Can Easily Carry Anywhere.
All the Advance Features Like Font and Rear Safety Warning Lights, High Caring Capacity, Infotainment Display, Three Speed Modes With the 15 Degree Uphill Riding Making It Perfect for Any Bad Weather.
Pros
Slim and Lightweight Design
Value for Money
Dual Shock Mitigation System
Easy to Folding
High Carrying Capacity
Data Cable Seeds
Cons
Lights Are Low
Not Smooth Suspension
Why I Recommend This
If You Have a Low Budget and Looking for a Better Quality Electric Scooter for Winter, Than All the Best in Class Features With a Magnificent Price Will Definitely Hold You Tight With This Scooter.
Dualtron Storm (Dual Motor)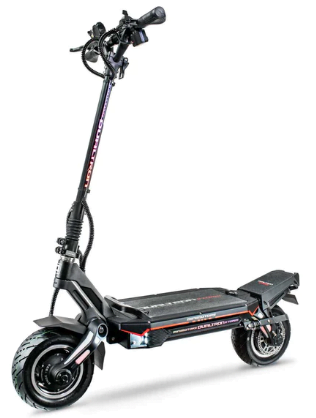 Specification
Speed: 59 Mph
Range: 80 Miles
Weight: 102 Lbs
Load: 330 Lbs
Battery: 2268 Wh, 72 V Lg
Electric Scooters From Voromotors Are Always Over Valued and Promise to Provide Long-Term Performance and the Dualtron Storm Electric Scooter is One of Them That Always Ready to Take You on Any Bad Roads With the Fat Tires.
6640w Bldc Dual Hub Motor Produce 59mph Top Speed With the 59 Mph Range. It is a Durable and Rugged Looking Electric Scooter Perfectly Build With High Quality Aluminum Frame.
It is Packed With Ey3 Lcd Display, 11″ Tubeless Tires, Removable Battery, Dual Charging Mechanism is Work Flawlessly to Climb Any Hills or Snow.
Pros
Powerful & Elegant Design
Best for Off-roading
Advance Technology
Tubeless Tires
Dual Charging & Removable Battery
Excellent Braking
Cons
The deck Should Be Large
Heavy & Bulky
Why I Recommend It
Fat Tire, Waterproof Rating, High Carrying Capacity, and the Bulky Design Provide Great Stability Along With the 35 Degree Hill Climbing Angle Work Really Smooth While Testing It in Snow With the Off Roading Tires and It Will Remain the Same After a Few Weeks of Test.
Overall It is an Impressive Product From a Reputed Manufacture Who Promised to Deliver Best Class Electric Scooter.
Uberscoot Electric Scooter, Black, Large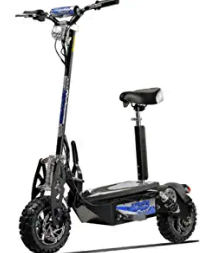 Specification
Speed: 30 Mph
Range: 12 Miles
Weight: 117 Lbs
Load: 265 Lbs
Motor: 1600w
Battery: 12v/12ah
With a Unique Design and Look the Uberscoot Electric Scooter is Powered by a 1600w Motor That Produces a Top Speed of 30 Miles.
It is a Perfect Electric Scooter for Bad Roads and Snow Weather It Promise to Provide Extreme Quality Performance Along With the Smoothness Which is the Dual Stock Absorber.
From Build Quality to Durability and Real-Life Performance Overall It is a Great Electric Scooter but I Slightly Disappoint With the Range.
Extra Features Like Infotainment Display, Well Build Quality, Off Roading Tires Impress Me to Add This Scooter to This Post.
Pros
Unique Design & Rugged Built
High Quality Off Roading Tires
Powerful Motor
Detachable Seat
Smooth Dual Suspension and Hydraulic Brakes
Why I Recommend It
If You Looking for an Affordable Electric Scooter for Winter With Durable Performance Then You Can Check This Electric Scooter but I Slightly Disappoint With the Range and Lead Acid Battery Which is Not My Cup of Tea.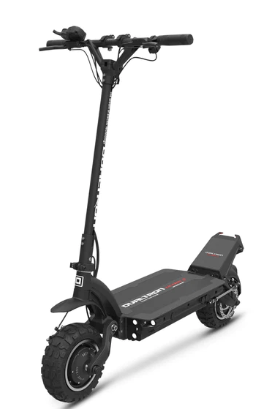 Specification
Speed: 56 Mph
Range: 64 Miles
Weight: 88 Lbs
Load: 330 Lbs
Motor: 1600w
Battery: 72v 40ah LG
Age I Previously Discussed the Ultra is Not Only in the Name the Dualtron Ultra 2 is a Mixer of Power and Great Performance.
If You Do Not Have the Issue of Budget and Looking for a High Mileage Electric Scooter in Any Bad Road Then This Electric Scooter With the Inbuilt 11″ Ultra Wide Off-road Tires is Perfect for You.
It is Powered by a 1600w Motor That Generator a Peak Power of 6640w and Along With the Hydraulic Brakes and Smooth Suspension, It Will Never Fail to Impress in Any Bad Weather.
It Has Cool Led Lights on the Deck but No Headlights, but You Can Install them for Night Rides.
Pros
Extreme Power and Performance
Special Snow Riding Tires
Durable Build Quality
High Range and Performance
Smooth Suspension and Breaking
What Are Resistant
Cons
No Headlight (but You Can Install it)
Why I Recommend This
If You Are Looking for a Premium Electric Scooter for Winter Then It is a Great Choice of Appreciation With Best in Class Features and Inbuilt Wide Off Road Tires, but Always Make Sure to Take the Proper Care of Your Scooter in Winter for Long Battery Life and Avoid Rusting.
If You Do Not Have an Issue with Money and Looking for a Premium Quality Electric Scooter for Snow Then Meet the Powerful and Elegant Electric Scooter the Dualtron Ultra 2.
It is Packed With Dual Motor That Produces Max Power of 6640w With the Top Speed of 56 Miles and When It Comes to Performance 11″ Ultra Wide Off-road Tires Provide Grip on Any Road Along With Smooth Control With Hydraulic Brakes and Suspension.
It Can Carry Up to 330lbs Which is the Highest On the List All the Extra Features Like Ey3 Lcd Display, Hydraulic Brakes, Powerful Initial Acceleration, and Perfect 35 Degrees Hill Climbing With the Cool Lights on the Deck Help Me to Add This Electric Scooter in This Post.
Tips on Handling Electric Scooters in Snow Conditions | Electric Scooter Winter Tips
For School, Office, or Any Other Important Work We Have to be Out From Home in Any Bad Weather Condition Like Snow, Cold Weather, or Rainy Days.
So Below Are the Some Safety Tips and Important Guide That You Can Follow for a Better Control of Your Electric Scooter to Avoid Unusual Situations on the Road
Electric Scooter Buying Guide for Winter
Riding Electric Scooter in Snow or on Ice is Very Tricky, Where You Have to Focus on Multiple Factors to Avoid Damage to Your Electric Scooter and Yours.
Definitely Choosing and Best Electric Scooter Under and Most Affordable Budget is Not Possible Where It Need More Power, Off Road Tires, and Good Quality Lithium Battery for a Durable Performance on Snow.
So Choose the Best Electric Scooter for Snow and if You Have a Low Budget Then You Can Also Go With the Affordable Segment You Can Upgrade the Tires From Standard to off Roading for Better Grip on Snow, Ice, and Cold Concrete.
Wide Tires
Tires Are One of the Major and Vital Factor That Affects the Ride on Any Bad Road Condition, So if You Looking for an Electric Scooter for Snow, Ice, or Cold Concrete Then Choosing the Best Off Road Tires for Your Electric Scooter is a Good Idea.
Pneumatic Fat Tires Are the Best Option to Ride in Any Bad Weather and It Will Provide Much Better Grip Then Others in the Bad Road.
Dual Motor
The Motor is the Main Factor That Produces Power and Pushing You Forward on Any Type of Road, It Produces the Inner Power to Push the Rider Forward, So Choosing the Dual Motor With High Power, Where You Get One Motor for the Front and Another for the Rear to Gain the Proper Traction and Enough Power to Cross Any Snow Roads.
Front Suspension
No Matter How Rugged the Road is, the Brand Suspension Will Allowed to Cross Over Any Obstacle With Ease and Put the Wheel on Road With the Proper Controlling of the Scooter to the Rider by Avoiding Wheel From Slipping and Losing Traction, So Choosing the Best Electric Scooter With Front Suspension is a Much Better Idea.
Strong Battery Life
Due to the Low Temperature the Battery Cell Decrease Rapidly So It Needs to Charge More Often in a Snow Weather, So Choosing Any Type of Strong Battery & Big Size Battery Will Provide You More Time to Ride in Cold Weather Which the Maximum Power Output to the Motor.
Build Quality
The Heavy Electric Scooter With Durable Build Quality Will Provide You the Stability and Put the Wheels to Stay in Place, So Focusing on the Build Quality and Body Frame With High Quality Materials Provide Better Durability on the Road.
Are the Major Factors That You Should Consider to Ride Any Type Off Roading, Snow or Cold Weather, Where You Can Clean Your Scooter After Every Ride Along With Upgrading the Scooter is Also a Great Idea.
What Type of Electric Scooter Is Good for the Winter?
Choosing the Best Electric Scooter for Winter is a Tough Task and Yes It is Not So Affordable but Investing Up to $1500 Will Help You to Get the Best One for Yourself.
Below Are the Some Steps That You Can Check Before Choosing an Electric Scooter Who is Also We Put on Focus to Make Our List:-
Can You Keep a Scooter Outside in the Winter?
No, Putting Electric Scooter Outside is Not a Good Idea as Lower Temperature May Effect Battery Life.
So Putting the Electric Scooter Inside the House or Garage is a Great Idea but if You Do Not Have Much Space Then You Can Also Put the Electric Scooter Outside Which is Directly Not Exposed to the Winter or Snow and Also Don't Forget to Put the Waterproof Cover.
How to Store an Electric Scooter During the Winter Season?
In Winter It Needs to Take Special Care of Your Electric Scooter Where You Can Turn It Off and Fold Properly and Then Cover It With a Waterproof Cover and Then Store It in a Dry & Clean Place and Don't Forget to Charge it More Often.
What is the Lowest Temperature to Ride an Electric Scooter?
Avoid Riding Electric Scooters at 0° Temperature as Most of Electric Scooters are Powered by Lithium-ion or Lead-acid Batteries and Low Temperature Affect the Batteries.
Are Scooters Good in Winter?
Yes, Electric Scooters Are One of the Most Convenient Methods of Transportation Where You Can Choose and Best Electric Scooters, Which Are Specially Designed for Winter Season With Extra Power and Performance.
Conclusion
After Testing Multiple Electric Scooters for Snow, Cloud, and Rainy Weather Finally, I Am Putting the Results With All the Specifications, Real Life Testing, Durability, Pros, and Cons to Ease Your Purchasing Decision.
You Can Also Choose From Our Top List Which Is One of the Most Affordable and Best in Class Electric Scooters for the Bad Weather.
Riding an Electric Scooter in Snow or on Ice is a Tough Task and Also Avoid Riding in Heavy Rain.
So That's It From My Side if You Have Still Some Confusion and Looking for a More Advice Then Mail Me or Comment Below Me and My Team Will Love to Help You.