And Here is the Ending of Your Searching for the Best Electric Scooter With Removal Batteries,
Because After Testing 10+ Electric Scooters With Removable Battery for 134 Days, I Am Here With the 6 Best Electric Scooters With Removable Batteries in 2023.
Electric Scooter With Removable Batteries Has Multiple Advantages From Charging to Portability, So After Testing and Reviewing Electric Scooters With Removable Batteries and Eliminating a Few of Them, I Put the Final Result in Front of You.
I Chose the Turboant X7 Pro Where I Like the Dual Battery, USB, Lightweight, and High Range, along with It is Available an Affordable Price.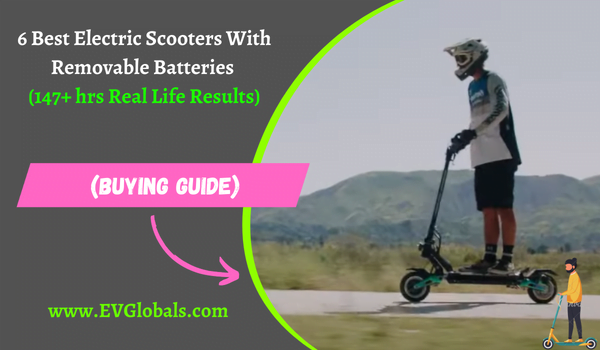 Best Electric Scooters With Removable Batteries
I Arranged the Electric Scooter According to Their Price, Performance, and Durability Along With the Battery Detachment and Charging Technology.
So Here Are the Results of Them
Turboant X7 Pro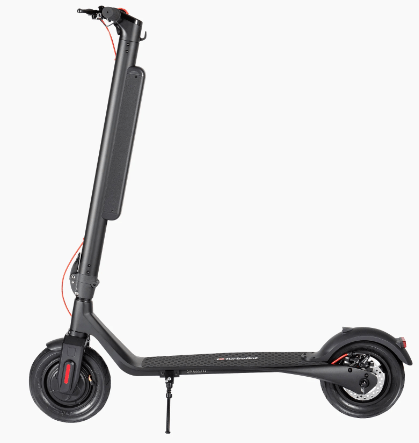 Specification
A Fun and Practical Electric Scooter With Arrange of 30 Miles Turboant X7 Pro is a Budget King That is Not Only Cool in Its Specs but Provide Enough Performance in Real-Life Testing.
It Comes With a 350w Motor That Provides Enough Torque for Beginner Daily Riders on the Road. It is a Lightweight Aluminum Frame Body That is Lightweight and Easy to Fold (in 5 Seconds Only).
It is Also Packed with Many Advanced Tech Like Easy Battery Swapping, an Extra Battery Add-on, LCD Display in the Middle of the Handle, Cruise Control, and a Bright Three Led light That Makes This Bike Perfect for Every Beginner Rider or Looking for a Daily Commute.
Pros
Comfortable Ride
Best Under $500
Simple and Elegant Design
IPX4 Water-resistance Rating
Justify the Price to Performance
Cons
Not for Off Roads
Deck Width Could Be Better
Why It is in the First Position
Compared to the Specs Along With the Price the X7 Pro Provide Much More Specification That Works Well in Real Life Testing Make It a True Budget Winner.
Turboant V8 – (Durable)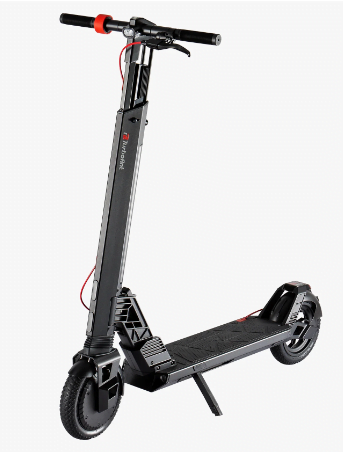 Specification
So if You Have a Budget of Less Than $600 and Looking for the Best Electric Scooter With Impressive Specs and Real-life Practicalness Then Introduce to You the Turboant V8.
The V8 is Powered By a Dual-battery With a 450 W Brushless Motor That Produces a Top Speed of 20 Mph and Provides an Extended Range of 50 Miles.
It Comes With Fast Charging, a Removable Battery, Dual Disc Brakes, Smooth Suspension, Mid-Handle LCD Display That Makes the E Scooter a Best in Class Product, Where You Get a Value for Money Products.
While Testing It on the Road in Both Day and Night, It is Pretty Impressive and Provides Durability and Yes the Light Provide Great Visibility Along With the Comfortless.
Overall It is the Best Value for Money With All the Premium Equipment for Better Longevity and Provides a Smooth Experience for the Rider.
Pros
Fast Charging Time
Cruise Control
Value for Money
Best for Beginners
IP54 Water-resistance Rating
Charging Dock for Removable Battery
Cons
Simple Look at This Price
Display Need Improvements
Anyhill UM-2 – (Premium)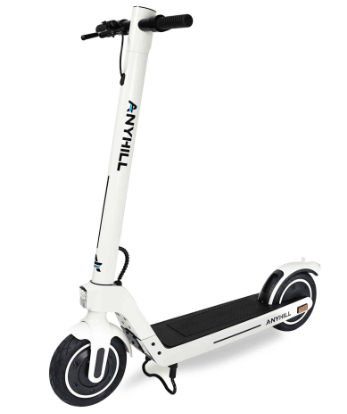 Specification
A Unique Look, Quick Folding Mechanism, 450w Powerful Motor Add the Anyhill Um-2 in This Post.
It is a Feature-Loaded Electric Scooter With a Lightweight and Sturdy Design That Will Attract You From a Long Way.
It is Packed With App Control, Lifetime After-sales Support, a Dual Brake System, Impressive Light, Mid-Handle LCD Display Making It a Perfect Daily Commute E Scooter.
So if You Have a Budget of $900 and Looking for a Stylish and Elegant Scooter That is Full of Advanced Features Then I Will Recommend You the Premium Anyhill Um-2.
Pros
Cool Lights
Large Size Tires
Great Acceleration
LG Battery
Impressive Brakes
Cons
Folding Mechanism Needs Improvements
Overall Thoughts
From Real Life Testing to Night Hunting, It is a Perfect Friend That Provides You Enough Enjoyment With Its Specification, Range, and Removable Battery.
Segway Ninebot ES4 Electric Kick Scooter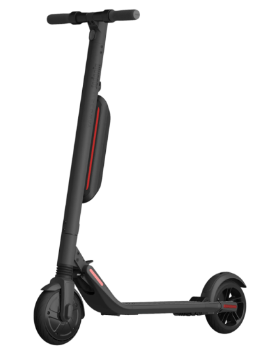 Specification
Solid Tires, Dual Battery, and Affordable Price Make the Segway Ninebot Es4 is a Perfect Daily Commuter. So if You Have a Budget of Around $600 and Looking for a Practical Commute Electric Scooter Then This is a Best Choice for You.
It Provides You with a Top Speed of 18 Mph With 28 Mile Range and Discusses About Technical specifications It Comes With Dual Fender Brakes, a Built-in LED Headlight, a Safety Pack, and Others.
While Testing It on the Road, It Provides Good Smoothness With the Suspension, With the Excellent Breaking but the LED Lights are Not Enough for Night (Need Improvement or Extra Add on)
Pros
Powerful Motor
Impressive Folding Mechanism
Excellent Breaking
Value for Money
15% Incline Capability
Advance Technology Inputs
My Final Thought
Definitely, It Justifies Its Price Along With the Specification of Where It is Best on the Road and I Will Recommend It to those who Looking for a Daily Commuter.
Hiboy S2R Electric Scooter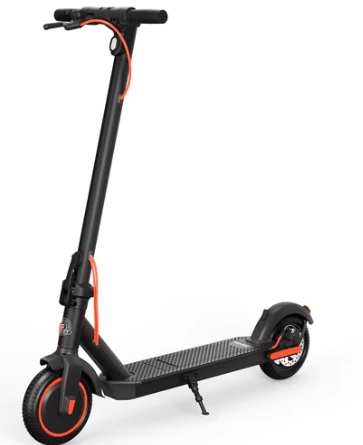 Specification
If Affordability and Excellent Specs are Your Men Priority Then You Should Meet Hiboy S2r.
The Hiboy S2r is a Compact Size Electric Bike Under the Budget of $400. It Comes With an Innovative Detachable Battery With the Easy to Fold Technology that Makes It Extremely Lightweight With Durable Build Quality.
With the a 350-watt Motor, It Comes With Cruise Control With a Top Speed of 15 Mph and a Range of 17 Miles That Making it the Best E-Scooter Under the Budget.
Overall the the Hiboy S2r is an all-rounder E Scooter for People Who Have a Low Budget And Searching for a Performance Packed E Scooter With an Affordable Price but Check the Lights if a Night Ride is Your Main Priority.
Pros
Cruise & Speed Control
IP54 Waterproof
App Control
Double Braking System
Impressive Lights
Affordable & LightWeight
Cons
Deck Width Needs Improvement
Not for Off-roading
Dualtron Storm – (Power House)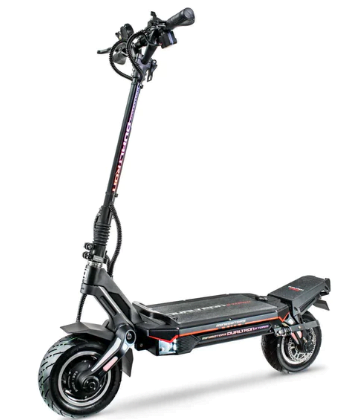 Specification
If Price Do Not Matter to You and Looking for a Superior Quality E Scooter With a Removable Battery and Advance Features Then Introducing to You Dualtron Storm.
It is a Powerful Bike From Voromotors With an Elegant Design and Durable Built Quality That Provide You the Enough Power for Both Off Roading and Daily Commute With the 11 Inch Tubeless Tires and 6640w Bldc Dual Hub Motor.
The Dualtron Storm is Packed With a Removable Battery With Dual Charging Ports, Hydraulic Brakes, LCD Display, and a Decent LED Making It Perfect With a Large Deck.
Pros
Powerful & Elegant Design
Best for Offroading
Advance Technology
Tubeless Tyres
Dual Charging & Removable Battery
Excellent Braking
Cons
The deck Should Be Large
Heavy & Bulky
Overall Impression
An Off Roading E Scooter With a Specially Designed Rugged and Durable Body, So if You Have the Main Priority is Power With the Removable Battery Then It is a Good Option for You With Massive Specs, That Work Well in Real Life.
Frequently Asked Questions and Answers
Do Electric Scooters Have Removable Batteries?
Most Electric Scooters Do Not Have Removable Batteries to Safety Concerns but You Can Definitely Detach the Battery From the Deck or Go to a Specialist for This Work.
Can I Remove the Battery From the Scooter?
If You Have a Removable Electric Scooter Than You Can Definitely Remove the Battery of It but if the Battery is Not Removed and Attached to your Electric Scooter Than Also You Can Remove It With Proper Knowledge, but I Do Not Recommend You that When the Electric Scooter is in Warranty Then Doing This Activity May Reject Your Warranty Claim or Void the Warranty.
How Many Years Does an Electric Scooter Battery Last?
2-3 Years or 10000 Miles to 30,000 Miles is the Average Lasting Period of Electric Scooter Batteries and After That Range and Performance Drastically Decrease and Need to Replace the Battery With New One.
Do All Ebikes Have Removable Batteries?
No Most of E-Bikes or Electric Scooters Do Not Come With Removable Battery Due to Safety Reasons, but if You Looking for the Best E-Bikes With Removal Batteries Then You Can Definitely Check Our Post to Find the Best Removal Battery Electric Scooters Where You Do Not Have to Carry the Charger.
My Final Thoughts
A Removable Battery Provides You the Freedom of Not Taking the Charger Along With the Scooter Where You Can Easily Remove the Battery and Take It Anywhere to Charge and Then You Can Again Put It Inside the Scooter After it is Fully Charged and Ready to Go.
After Testing Multiple Electric Scooter With Removal Batteries for More Than 114 Days With My Team by Going Through Several Tests From Durability to Battery Life I Put All the Results in Front of You to Clear All Your Doubts and Find the Best Electric Scooter as Per Your Need.
But There are Many Safety Concerns That's Why Manufacturers Avoid Removable Batteries From the Electric Scooter, but We Are Lucky to Go Through a Deep Research and Find the Best Category Electric Scooter With Removable Batteries for You.
So Wrap Up Again, if You Have a Low Budget Then I Suggest You to Go With Turboant X7 Pro Which is the All Rounder and for the Premium One, You Can Check the Dualtron Storm, Which Impress Me Pretty Well While Testing It on Different Road Conditions With Its Smooth and Powerful Throttle.
From Budget to Performance, I Categorize Them Along With the Price and Affordability That Will Ease Your Buying Decision.
So That's It From My Side, if You're Looking for More Information About Electric Vehicles or Scooters Then Definitely Check Out Others Force on This Site.