After Testing 17 Electric Scooters for More Than 110 Days With Several Tests on Different Roads Here I Am Presenting to You
If You are In a Hurry, Then Go With This:-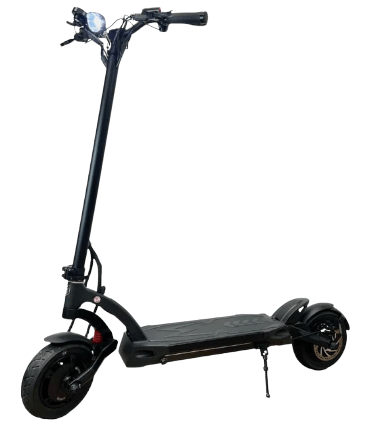 Top Product
Winner
Mantis V2
Attractive User Rating, Cool Design, and Price Attract Me With The Specifications of this E Scooter.
Top 5 Best 2000w Electric Scooters
Top 5 Best 2000W Electric Scooters 2023 | E Scooter for Heavy Rider
As a Heavy Rider for More Than 5 Years, I Completely Understand How Speed Adds Thrill in Our Lives, So for All Electric Scooter Enthusiast Who Looking for the Best 2000w Electric Scooters With Maximum Power and Performance Under Your Budget, Then This is Only for You.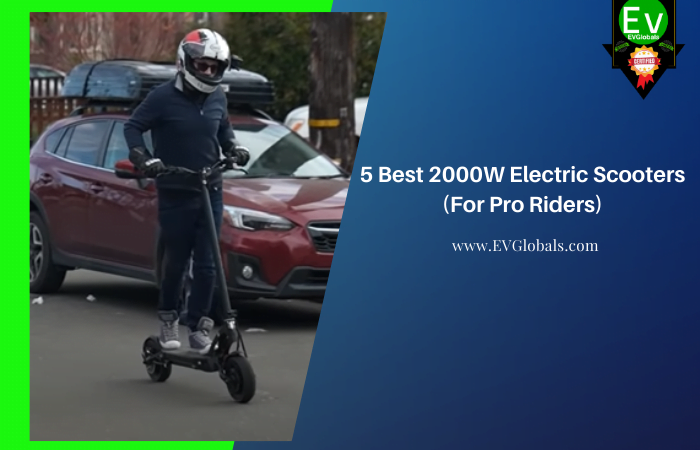 I Have Tested the Build Quality, Motor Performance, Acceleration on Different Road and Mountains, Controlling and Proper Braking on Different Electric Scooter, Putting All the Results in Front of You to Help You to Find the Best 2000w Electric Scooters Under Your Budget or Requirement.
Mantis V2 – $1,699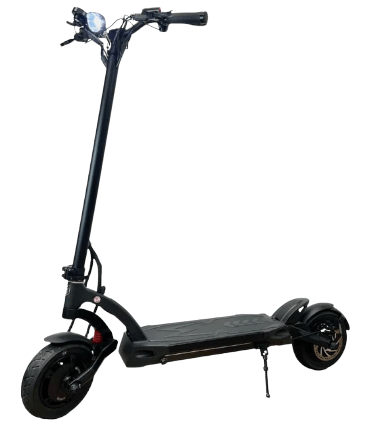 Specification
Speed: 40 Mph
Range: 33 Miles
Weight: 65 Lbs
Load: 265 Lbs
Dual 60v 1000w Motors
As I Know It is a Proper Off Roading Electric Bike, I Take a Step Down to the Jungle to Test This Mantis V2 and It Will Definitely Impress Me With Its Power and Initial Throttle.
So the Power to Performance Ratio Makes the Fast Position With the Price of $1,799, Making the First Position for This Bike.
It Only Takes 2.5 Seconds to 0-15mph Which is a Powerful Motor With an Impressive Range of 33 Miles.
It Weighs around 65 Lbs and is Easy to Hold Making it Ideal for Daily Commute Purposes.
Talking About the Technical Specification, It Comes With an Ipx5 Water Resistant Rating, Front and Rear Wheel Drive, Fast Charging, Dual Disc Brakes, a Small Display for Information, and Most Impressive LED Lighting That Makes the Night Journey More Comfortable and Enjoyable.
Overall Impression
For Those Guys Who Want to Take the Riding Experience to the Next Level, This is a Great Choice With an Impressive Price That Generates Enough Power and Comfortable Riding for Long Rides.
Pros
Excellent Controlling & Handling
Extreme Power & Torque
All-terrain Riding
Dual Spring Suspension
Hydraulic Brakes
IPX5 Water-resistance
Impressive LED Light Rigs
Cons
Looks Could Be Better
Irritating Folding Mechanism
Inokim OxO – $2,399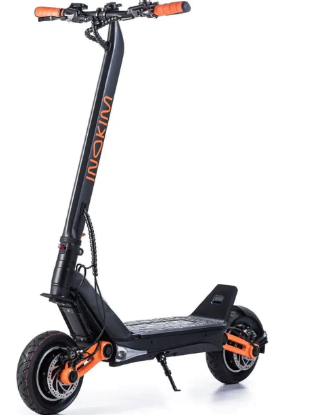 Specification
Speed: 40 Mph
Range: 68 Miles
Dual 60v 1000w Motors
Weight: 74 Lbs
Load: 265 Lbs
No So Off-roading but High Aggression on the Road, the Inokim Oxo is My Second Choice if You Are Looking for a Powerful Daily Commuter Where It Reaches Up to 0-15 Mph Within 3.5 Seconds.
With the Impressive Road Presence, the Inokim Ox0 Comes With a Stylish Design Language That Provides a Range of Up to 50 Mph With a Top Speed of 40 Mph.
With is the Power of Dual Motor It is an Impressive Superior Build Quality Electric Scooter that can Carry Up to 265 Lbs, While Testing It on the Road the Suspension Works Pretty Well by Protecting Me From Ups and Downs, and the Dual Disc Brakes Work Pretty Well in Terms of Stopping.
The Handle is Large and You Have a Small LCD Display for All the Navigation, When It Comes to Portability You Can Easily Hold It and Put It Anywhere to Travel With, and the Small Deck does Not Impress Me So Much.
Recommend for Whom
People Who Looking for a Daily Commuter With Powerful Acceleration and Throttle and Short or Mid-Height, Then This is the Best Option for You With Durable Build Quality and Eye-catchy Design.
Pros
Simple and Stylish Design
Easy to Control
Heavy-Duty Build Quality
Impressive Braking
Smooth Throttle Response
Vsett 10+ (Amazing)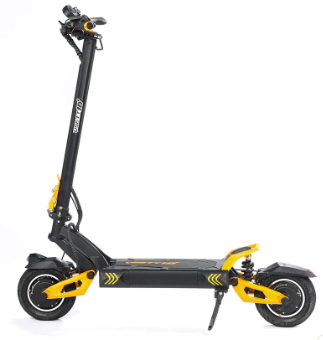 Specification
Speed: 48 Mph
Range: 64 Miles
Dual 2x 1,400w Motor
Weight: 86 Lbs
Load: 265 Lbs
With an Aggressive Design, the Vsett 10+ is Always Ready to Take You With the Top Speed of 48 Mph, by Adding Thrill to Your Life, So if You Are Looking for a Powerful Electric Scooter With Dual Motor Technology At the Price of $2000, Then This Will Never Disappoint You.
The Vsett 10+ Can Help You to Climb Hills as Steep as 35 Degrees With Its Powerful 2800w Motor Where It Provide the Top Speed of 50 Mph Which is the Range of 70 Mi.
It Comes With a 1680 Wh, 60 V Lg Lithium Ion Battery Where It Can Take Less Than 4 Hours to Complete Charge With Fast Charging.
It is Lightweight and Easy to Fold, Allowing You to Take It Anywhere You Want by Putting in Your Truck or Car Within a Few Minutes.
Reason of Recommendation
With a Stylish Look, and Sturdy Body, This Electric Scooter Will Never Disappoint You The Powerful 2800w Motor, Where It Can Produce Enough Power and Acceleration, but for Night Riders, the Light Needs Some Improvement.
Overall It is a Great Electric Scooter With the Best Quality and Advanced Specifications.
Pros
Best in Class
Maximum Torque and Acceleration
Cruise Control
Stylist Design
Dual Hydraulic Brakes
Fast Charging
Multiple Customization
Nami Burn-e 2 – $3,399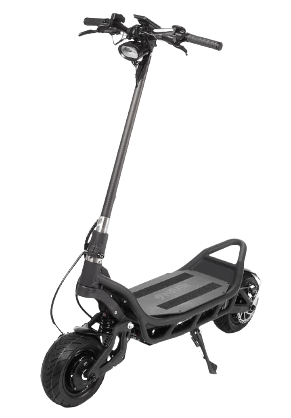 Specification
Speed: 45 Mph
Range: 90 Miles
Weight: 100 Lbs
Dual 72v 1000w Motors
Load: 330 Lbs
If Pro-ness Always Run in Your Blood, Then This Bike is Specialty Designed for You, the Power, Throttle, and Acceleration Impress You With Its Elegant Road Presence.
The Nami Burn-e 2 the is True Leader of 2000w Electric Scooters Where the Power Meet Performance and Produce Numerous Speed for Heavy Riders, While Testing on the Road It Only Takes 1.8 Seconds to Reach 0-15 Mph, by Making a Record in My List.
So if You Do Not Have Any Issues With Large Size and Portability, Then This Will Never Disappoint You With Its Features and Real-life Performance.
It is Incredible Compared to Its Previous Version When It Compares to Its Technical Description It Comes With a Beautiful TFT Display, Colorful LED Rig, and Dual Disc Brake Never in the Performance of Scooter.
My Impression
So if You Do Not Have Any Important of Price Issue, and Want to Enjoy the True Power of an Electric Scooter, Then My Friend This is Only for You Which You Can Take Anywhere From Roads to Mountains, and the Aggression Will Never Decrease.
From Cool Lights to Impressive Braking, This is an Incredible Electric Scooter.
Pros
Value for Money
Impressive Design & Rugged Build
Powerful Hydraulic Brakes
Perfect Cruise Control
Excellent Lighting
Aggressive Power With the Throttle
Water-resistant Rating
M Yume Scooter Y10 ($1,199) Most Affordable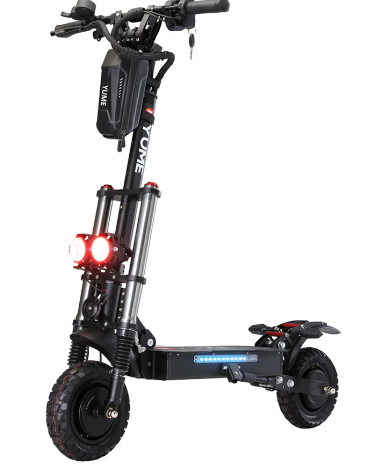 Specification
Speed: 40 Miles
Range: 64 Miles
Dual Motor of 2400w Total
Weight: 86 Lbs
Load: 330lbs
Battery: 23.4ah
Double Suspensions
For My Budget-friendly Reader Who Looking for a 2000w Electric Scooter With an Affordable Option, Then the M Yume Scooter is a Great Dual Motor Electric Scooter With a Seat, That Works Pretty Well in My Testing.
It is the Best 2000w Electric Scooters That Impress Me All the Way and I Got Into Doubt How a Brand Can Provide Such Specifications with This Price Range, but Yes, It is Truly Appreciable for the Brand to Launch This Type of Electric Scooter.
It Comes With a Durable and Sturdy Design That Can Produce a Top Speed of 40 Miles and an Age Also 40mph, It Can Carry up to 330 lbs, So There is No Issue with Busy Traffic on US Roads.
While Talking About the Technical Specifications It Comes With an Impressive Light Setup on Both Front and Rear and in the Deck, Dual Disc Brake, Fast Charging, and Hydraulic Shock Absorption.
Pros
Durable Design
Powerful Motor
High Caring Capacity
Powerful Lights
Best in Class
Off Road Tire
Cons
Build Quality Should Improve
Small Deck Size
My Thoughts
Ok, the Deck is a Little Short as I Am a Tall Guy, but Overall the Build Quality and Real Life Testing in Both Day and Night Make a Position for This E Scooter on This Post.
So if You Have a Low Budget Then Definitely This is a Center of Attraction for You.
Best 2000w Electric Scooters Buying Guide 2023
Definitely, You Are a Tech Guy Who Wants to Take the E-Scooter Riding to the Next Level, Where It Provides You Maximum Power, Torque, and Acceleration to Increase Speed and Performance.
Choosing a 2000w Category Electric Scooter Needs Technical and Versatile Knowledge to Judge Them Perfectly, So We Go Through a Deep Test by Taking Complete Rides More Than Two Month With Several Tests for a Better Result to Put in Front of You.
So if You Have the Interest of Purchasing 2000 Watt Powerful Electric Scooter That Comes With Advance Features With Extensive Power Then You Can Go Through Below Steps to Find the Best One.
Power & Acceleration
2000w Electric Scooter, Comes With Enough Power That Help Me to Test It on Different Roadways, and Mountain, to Check the Torque and Acceleration the Scooter Produce.
So You Have to Make Sure Check the Real Life Testing, for the Proper Knowledge of Power and Throttle.
Battery Power
With a Powerful Electric Scooter, It is Definitely Need of a Powerful Battery Backup, So Make Sure to Check the Battery Quality and Power, for a Long Range and Hustle Free Riding Experience.
Portable & Foldable
Most of the Large Most of the Large Size Electric Scooters Have the Issue with Portability and Folding, So Make Sure to Check the Portability if It is Your Main Priority.
The First (Mantis V2) and Second Options (Inokim OxO) Are the Best for Portable With Enough Power.
Pricing & Affordability
Pricing and Brand Value Are the Major Concern That You Have to Focus on. There Are Many Over Priced Electric Scooters in the Market, So Try to Avoid Them and Check the Price to Feature Ratio.
Here in This Post I Tried the Best and Check All the Five Electric Scooter According to Their Price to Performance Ratio and Then Put Them in Front of You.
Safety Features
When It Comes to Safety It Plays a Great Role, as These Scooter Are Very Powerful and Provide You with High Acceleration, So Making You to Check the Brake Quality and Suspensions Along With Where All the Safety Gears, to Avoid Unusual Situations by Following the Law.
How Fast Can a 2000w Electric Scooter Go?
Up to the Top Speed of 40 Mph, the Powerful 2000w Electric Scooter Can Offer Up to a Top Speed of 40 Mph While Most of Also Provide Less Than 28 Miles Per Hour.
Speed Depends Upon Many Factors Like Your Weight, Road Condition, Tire Condition, Battery Charge, and Others That Affect the Speed of an Electric Scooter.
What Electric Scooter Has the Highest Load Capacity?
Upto 330lbs, After Testing Most of the Electric Scooter From Beginner to Expert Level, Most of Electric Scooter Support Up to 330lbs in the Premium Segment Where the Beginners and Electric Scooter Support Up to 280lbs, Which is Enough According to the Price.
What is the Max Watts for an Electric Scooter?
The Maximum Watts for an Electric Scooter is 5000 Watts, the Electric Vehicle Industry is Growing Rapidly, Majority of Manufacturers Focus on Power to Performance So they Provide Best in Class Products With Powerful Battery
How Fast is 2000w 60v in Mph? (25mph)
The 2000w 60v Motor Provides Up to a Top Speed of 25mph, as Per the Electric Scooter Law, It is limited to 25 Mph Speed, but the Electric Scooter is Powerful Enough to Produce More Power.
How Much Does a 2000w Electric Scooter Cost?
From $1199 to $2500, Where You Can Get a Best Quality Electric Scooter With 2000w Power Output.
With a Low Price, You Have to Compromise With Some Advanced Specifications and Technology but After a Good Research, I Found That the Lowest Price Bike I Have Listed in This Post is Powerful Enough and Comes With All the Best Technology.
What is the Cheapest 2000w Electric Scooter?
M Yume Scooter Y10 (40 Miles) Dual Motor E Scooter is One of the Most Affordable Electric Scooters With Seats At the Price of Only $1199.
My Final Opinion on the 2000w Electric Scooter
Definitely, You Are a E Scooter Enthusiast So, you Looking for a Powerful Electric Scooter that is Specially Designed for Pro Rider or Heavy Riders, That adds Extra Thrill and Speed to Your Bike.
So After Proper Testing of Different Powerful Electric Scooters, Am Here With the 5 Best 2000w Electric Scooters Where I Put the Mantis V2 is the Overall Winner, and the Nami Burn-e 2 the King of the Segment With Enough Power and Performance.
I Hope That I Will Help You to Solve Your Issues With My Details Research and Real Life Analysis of This Powerful Off Road Capable Electric Scooter, Still, if You Have Some Doubts or Queries Regarding the 2000w Electric Scooters Then You Can Definitely Ask Me in the Comment Section and I Will Love to Answer Them.